What is the cause of cough with sputum or blood with it and how can you prevent them?
Cough is the save mechanisms of our body, it cleans our respiratory track as we cough dust particles or other particles come out from mouth. But cough with blood or sputum is sign or symptom of any disease  that can leads to the death.  So having knowledge about the disease should be necessary so have a look on them.
Lungs are muscular organ use to help in breathing. Breathing is a life saviour mechanism in which we take oxygen inside the body and expel harmful gases outside the body.
So lungs are more prone to infection as it work in exchange of gases . There is also a defensive mechanisms by which toxic and harmful substances unable to enter the lungs but when these defence mechanisms get damage due to any reason, it cause bacteria, fungi or virus to enter the lungs.
They cause complications in breathing and severe diseases like pneumonia, tuberculosis, asthma etc. So let discuss about the tuberculosis
TUBERCULOSIS:
It is the bacterial infectious disease which can commonly occurs in lungs and any organ of the body except cornea .( Part of the eye)
It is highly communicable disease.
It is spread from the cough and sneeze of an infected person.
It causes destruction of lung tissue which leads to cough, pneumonia, breathlessness and fatigue etc.
WHAT ARE THE TYPES OF TUBERCULOSIS:
To understand tuberculosis,  we divided it into some of it's type. They are of following types
1. LATENT TUBERCULOSIS:
It is the tuberculosis in which you have bacteria in your body but don't have sign and symptoms of tuberculosis and the person cannot spread the infection.
2. ACTIVE TUBERCULOSIS:
It is the tuberculosis in which the bacteria make you sick having sign and symptoms and you can spread it to others.
3. PRIMARY TUBERCULOSIS:
It occurs in people who are previously unexposed to that disease and get it for the first time.
4. SECONDARY TUBERCULOSIS:
It occurs in people who already exposed to that disease before and reactivation occur.
5. MILITARY TUBERCULOSIS:
It is the tuberculosis in which bacteria spread through blood to other organs and cause disease like in liver, spleen, kidneys, bone marrow etc.
6. OTHER TUBERCULOSIS:
It can occur in lungs liver kidney spleen bone marrow intestine etc.
EPIDEMIOLOGY:
Every year about 10 million people develop tuberculosis in which 1.6 million die of it.

It flourishes where there is poverty, crowding, already having any illness.
RISK FACTORS:
People who have weak immune system like AIDS patient ( disease in which our immune system get too much week), diabetes( high blood sugar level), malnutrition( taking diet less of nutrients), alcoholism, renal failure, family history, lung disease, old age.
HIV/AIDS
Diabetes
Severe kidney disease
Certain cancers
Cancer treatment, such as chemotherapy
Drugs to prevent rejection of transplanted organs
Malnutrition or low body weight
Very young or advanced age
low immunity 
living with someone already infected  person.
homeless person 
Other factors
Using substances.
 IV drugs or excessive alcohol use weakens your immune system and makes you more vulnerable to tuberculosis.
Using tobacco: 
Tobacco use greatly increases the risk of getting TB and dying of it.
Working in health care.
Regular contact with people who are ill increases your chances of exposure to TB bacteria. Wearing a mask and frequent hand-washing greatly reduce your risk.
Living or working in a residential care facility.
People who live or work in prisons, homeless shelters, psychiatric hospitals or nursing homes are all at a higher risk of tuberculosis due to overcrowding and poor ventilation.
Living with someone infected with TB. 
Close contact with someone who has TB increases your risk.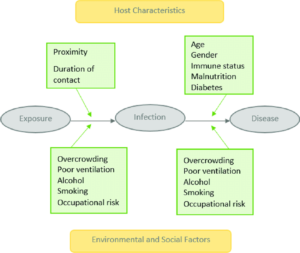 WHAT SIGN AND SYMPTOMS WOULD APPEAR IN TB PATIENT
If patient has TB they show several sign and symptoms such as:
Fever low grade
Cough with sputum or blood
Weight loss
Body pain
Loss of appetite
Night sweats
Weakness
Coughing for three or more weeks
Chest pain, or pain with breathing or coughing
Fatigue
Night sweats
Chills
When to see a doctor
See your doctor if you have a fever, unexplained weight loss, sweats or a persistent cough. These are often indications of TB but can also result from other conditions. Also, see your doctor if you think you've been exposed to TB.
Have HIV/AIDS
Use IV drugs
Are in contact with infected people
Are from a country where TB is common, such as several countries in Latin America, Africa
Work in health care and treat people with a high risk of TB
Are children who are exposed to adults at risk of TB
Causes
Tuberculosis is caused by bacteria mycobacterium tuberculosis that spread from person to person through microscopic droplets released into the air. This can happen when someone with the untreated, active form of tuberculosis coughs, speaks, sneezes, spits, laughs or sings.
HOW TB CAN PREVENTED:
TB is one of the life threatening disease So if people prevent TB by
Preventing over crowding.
Build up of T.B sanatorium for isolation of patients.
By vaccination (BCG vaccine).
Screening of T.B.
Awareness of T.B.
Taking proper balanced diet having all nutrition.
Houses should have ventilation properly.
Maintenance of hygiene.
Preventing smoking and alcohol.
Finish your medication
This is the most important step you can take to protect yourself and others from tuberculosis. When you stop treatment early or skip doses, TB bacteria have a chance to develop mutations that allow them to survive the most potent TB drugs. 
Vaccinations
In countries where tuberculosis is more common, infants often are vaccinated with bacille Calmette-Guerin (BCG) vaccine. The BCG vaccine isn't recommended for general use in the United States because it isn't very effective in adults. Dozens of new TB vaccines are in various stages of development and testing.
TESTS FOR DIAGNOSIS:
To diagnose TB we can do some test which can help in detection of TB they include
Skin test
Blood test
Sputum test
Chest X-Ray
WHAT IS THE TREATMENT FOR TB:
TB is one of the major cause of death. So to prevent death following treatment can done such as:
DOT (Direct Observation Therapy) clinics are used for treatment of T.B.
Antibiotics treatment is taken ranging minimum of 6 month and maximum of 2 years.
Patient should be isolated during their treatment and all their clothes, pots and other belongings should be separated until T.B healed.
COMPLICATIONS OF T.B:
TB cause severe complications just like:
Spinal pain.
Back pain and stiffness are common complications of tuberculosis.
Joint damage.
 Arthritis that results from tuberculosis (tuberculous arthritis) usually affects the hips and knees.
Swelling of the membranes that cover your brain (meningitis). 
This can cause a lasting or intermittent headache that occurs for weeks and possible mental changes.
Liver or kidney problems.
Your liver and kidneys help filter waste and impurities from your bloodstream. Tuberculosis in these organs can impair their functions.
Heart disorders.
Rarely, tuberculosis can infect the tissues that surround your heart, causing inflammation and fluid collections that might interfere with your heart's ability to pump effectively. This condition, called cardiac tamponade can be fatal.
T.B OUTLOOK:
Outlook depend upon several things including your overall health, how severe the infection is, and how well you follow the doctor's direction or treatment. In the U.S , experts estimate that treatments works in 95% of cases.