WHY COUGH WITH PUS AND CHEST PAIN OCCUR?


Chest pain with cough and pus occur in alot of conditions, for the differentiate you must know what is pneunomia.
Pneumonia is an infection of the lungs. It is a serious infection, that inflames the air sacs (alveoli) of both lungs. These (air sacs) alveoli may filled with pus and fluid, which makes breathing painful and limits oxygen intake.
Lobar pneumonia:
It affects one or more sections (lobes) of the lungs.
Bronchial pneumonia:
It affects the patches throughout both lungs.
Symptoms:
Pneumonia can range from mild to life-threatening. It is most serious for infants, children, people older than age 65, and people with health problems or weakened immune systems. The pneumonia may caused by bacteria, virus and fungi.
The signs and symptoms of pneumonia vary from mild to severe, depending on factors such as the type of germ causing the infection.
Signs and symptoms of pneumonia may include:
Chest pain when you breathe
Cough with pus
Breathing difficulty
Confusions
Fatigue
Fever, sweating and
shaking chills
Lower than normal body
temperature
Nausea, vomiting and diarrhea
When to see a doctor:
If you have difficulty in breathing, chest pain, continuous fever of 102 F or higher, especially if you're coughing up pus.
It's especially important that people in these high-risk groups should see a doctor.
If you are facing problem in breathing or you can't lye just because of cough and specially with pus you should immediately call a doctor.
TYPES OF PNEUMONIA
(ON THE BASIS OF INFECTIOUS AGENT)
BACTERIAL PNEUMONIA:
Most commonly due to Streptococcus pneumoniae bacteria.
It affects the person have cold or flu.
People with depressed immunity can easily get targeted by bacteria which affects directly on air sac of the lungs.
VIRAL PNEUMONIA:
This type is caused by various viruses, including the flu (influenza) responsible for about one-third of all pneumonia cases.
You may be more likely to get bacterial pneumonia if you have viral pneumonia.
MYCOPLASMA PNEUMONIA:
This type has somewhat different symptoms and physical signs and is referred to as atypical pneumonia.
It is caused by the bacterium Mycoplasma pneumoniae.
It generally causes a mild, widely spread pneumonia that affects all age groups.
Other pneumonias:
There are other less common pneumonias that may be caused by other infections including fungi.
COMMUNITY-ACQUIRED PNEUMONIA:
It is acquired outside of the healthcare system.
It is the most common type of pneumonia and generally presents as an Infection, with symptoms appearing over the course of hours or days.
Streptococcus pneumonia bacteria is the leading cause-responsible for 20% to 60% of all cases.
HOSPITAL-ACQUIRED PNEUMONIA:
Hospital-acquired pneumonia is a lung infection that is obtained during a hospital stay.
This form of pneumonia can be serious because some times the patients in the hospital are with weak immunity so they are more susceptible to get infected.
Hospital-acquired pneumonia is also common in patients who require a ventilator for breathing assistance. Ventilator tubes or other tubes that open a patient's throat provide a direct point of access for airborne bacteria and viruses to enter the lungs.
HEALTHCARE-ACQUIRED PNEUMONIA:
It is an infection obtained during a visit to an outpatient clinic, nursing home, or long-term care facility.
This type of pneumonia commonly occurs in patients with long term kidney disease.
It is the leading cause of death in dialysis patients.
SYMPTOMS:
cough,
Dyspnea (breathing problem)
fever above 38°C,
chills,
Lung Infection
chest pain.
DIAGNOSIS:
It may be represented by the presence of patches in lungs, cavitation and lungs filled with water. Chest x-ray should be done.
MODE OF TRANSMISSION OF
PNEUMONIA:
Through nose and air:
By sneezing and coughing through air droplets or by close contacts sitting without gap
Through the mouth or eyes:
This can happen when a person touches a surface that an infected person has coughed or sneezed on.
Food particles and initants:
From the intestinal tract can also cause pneumonia. This is called aspiration pneumonia, happens in people who have trouble swallowing food.
Microscopic particles of fungus:
fungal pneumonia.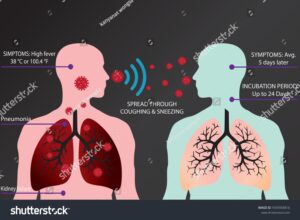 People who are most likely to have pnumonia:
Adults ages 65 and older
Children younger than age 2
People with certain medical conditions like lung diseases, heart diseases, asthma and stroke
People that smoke
Pregnant females
Alcoholics
Recent surgery
Respiratory disease or
viral infection
Weakened immune system
Patients on Dialysis
Hospitalized patient
Patients on ventilator support.
MEASURES FOR PREVENTION OF PNEUMONIA:
Immunization
Proper nutrition for
improving children's natural defence mechanism
Good hygiene practice
Hand washing
Staying up-to-date on all vaccinations
Quit smoking
Practice a healthy lifestyle.
Get enough sleep and exercise to make your immunity strong.
Risk factors:
Pneumonia can affect anyone. But the two age groups at highest risk are:
Children who are 2 years old or younger
People who are age 65 or older
Other risk factors include:

Being hospitalized.
You're at greater risk of pneumonia if you're in a hospital, especially if you're on a machine that helps you breathe (a ventilator).

Smoking:
Smoking damages your body's natural defences against the bacteria and viruses that cause pneumonia.

Weakened or suppressed immune system:
People who have HIV/AIDS, who've had an organ transplant, or people who are taking medicine to suppress their immune system are at high risk.

People with other diseases:
people who already have some other diseases like heart diseases, kidney diseases are more likely to get Infected.
GENERAL SUPPORTIVE CARE:

All patients with pneumonia and other lung and heart diseases should be advised to rest and avoid smoking. Hydration and proper nutrition should be maintained.

Antibiotics should be started most probably (ideally within 4 hours) and continued for a total of seven and 7-10 days in low-to-moderate and high severity pneumonia cases.