Want to grow your LinkedIn? How to connect with recruiters?
More Impressions = More Opportunities
After writing on LinkedIn every day for more than three months, I've learned that the key to attracting more viewers there is presenting information of a certain type that grabs readers' attention.
Text Only Posts
Some 'Gurus' expected LinkedIn to turn out like Instagram and Facebook  "All images and videos". Fortunately, LinkedIn didn't let that happen.
Since the beginning of LinkedIn, text-based posts have dominated the platform and will do so in the future. Just by producing text-based content, users like Justin Welsh have amassed over 200k followers and made millions on LinkedIn.
Compared to the other varieties, my text-based posts have frequently done better. And if you do decide to move through with these kinds of postings, here is a tried-and-true framework to help you quickly increase the number of people who see your posts.
Hook : This section is responsible for capturing a reader's attention
Story : This section is responsible for keeping that reader glued to your content
Call to Action : This section is responsible for making readers take an action — comment, like, share or follow.
Your post should begin with a hook, keep readers interested with a story, and conclude with a call to action that motivates them to take some sort of action.
Keep things straightforward, be consistent, and pay attention to how your LinkedIn account grows.
Let's examine the following type of stuff now.
Carousels
In order to get around this, carousels have shown to be a useful tool for stopping scrolls and enticing readers to interact with your material.
Carousels are essentially a collection of related text-based image posts. They are frequently made using appealing graphics and drawings coupled with written explanations. A popular carousel post is as follows: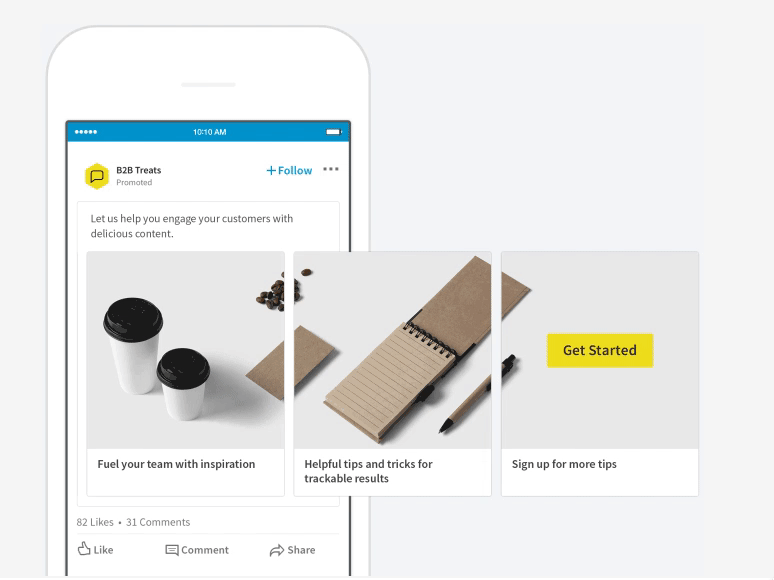 How to Post as a Carousel on LinkedIn
Memes
The "professionalism" of the LinkedIn network took a clever turn when users began interacting actively with meme-based content. Most of the humour in the memes on LinkedIn is related to work and life.
Such memes are known to connect with users in a related niche and deviate a little from the platform's "ethics" by being humorous. Who on the platform would pass up the chance to be amused by a meme among the other "professional" posts? It's somewhat amusing and soothing.
Visit Imgflip to make a meme of your choice by choosing your preferred image and text. When you're through picking out your meme, click "create a meme" to download it and post it on LinkedIn.

Personal Pictures
Personal stories with pictures have been ranking higher than the 'usual' work-related LinkedIn posts. Ironic, isn't it? Users have been sharing their life experiences on the platform which others find resonating.
These intimate, image-based postings typically include tales of failure, life lessons learned, starting a business, overcoming obstacles as a child, and other similar tales. This has demonstrated how adding a "personal" touch to an otherwise "professional" site like LinkedIn may increase views and followers.
Illustrations 
Illustrations are clear, educational images that typically serve the objective of educating the audience by combining text and graphic images.
To create free illustrations, try Canva or Excalidraw. Even these kinds of postings are excellent scroll stoppers and provide a change from the typical text-based posts for LinkedIn users.
Why not, if you can convey the same textual information in an infographic using simple designs?
How to Connect With Recruiters?
1. Maintain Profile
Keep your profile up to date by updating the headline, summary, and experience with any changes to your employment or educational status. Make sure to regularly update your profile to keep it current. If a professional visits your profile, you don't want them to see that it is inactive. If you received an internship, for instance, you could add a title like "Incoming xxxx intern @ abc corporation."
2. Set up Job Alerts
One of the leading job sites, LinkedIn is rising to prominence. You can instantly connect with employees of that company using LinkedIn and see who advertised the position. A job alert keeps you one step ahead of the competition by letting you know the moment a position is listed so you can apply first. Additionally, it saves you time by eliminating the need to repeatedly search for matches and apply filters.
https://www.linkedin.com/jobs/search/
3. Use the Alumni Page
The alumni website allows you to search for alumni using various filters and then connect with them as necessary. Even for the alumni search, the boolean logic you apply on a search engine will be perfectly adequate.
4. Follow Companies
You can stay up to date on news and updates from the businesses you're interested in by following them. For a comprehensive understanding of the industry trend, you can monitor numerous businesses. A recruiter once said to me, "Before accepting a connection request, I look up the person's profile to see if they follow my firm."
5. Join Groups & discussions
Joining the LinkedIn groups relevant to your interests is another excellent approach to remain current with industry developments. For your newsfeed to display more pertinent items, you can also follow hashtags.
6. Like, Comment, Share
Want more people to read your LinkedIn profile? First, interact with the information on LinkedIn by responding to it and leaving comments. Start sharing stuff that has been created by someone else and add your commentary if you want to go one step further. Only 3 million LinkedIn users or 0.5% of all LinkedIn members share information on the platform each week. Start publishing material every week on LinkedIn if you want to be in the top 0.5%!
7. Post Your Own Content
Start publishing on a weekly basis if you feel more comfortable expressing your ideas on LinkedIn. The number of views on your post will increase dramatically if it has the appropriate keywords, hashtags, and images. On a recent post, I received over 275 responses and 18,000 views. You might also create a blog post.
Final Thought
I hope this article was helpful to you. Now it's your turn. Leave a comment with your favourite LinkedIn advice. If you have any queries or worries, you may also write them in the comments.